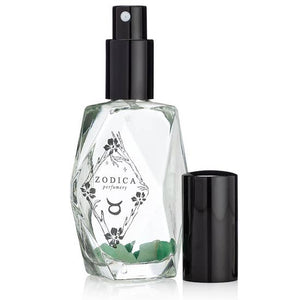 Taurus Crystal-Infused Zodiac Perfume
Taurus zodiac perfume beautifies as it reflects its Spring season with a lavish floral bouquet. A velvety undertone makes a sensual home for this earth sign. Makeover your day with its pretty vibe.
Crystal-infused with Indian Jade, used through the ages for its wealth and luck attracting energy. The sprayer is removable so you may refill the travel size and eventually remove the stones to use in meditation or Reiki.
Top: Iris, Lily of the Valley

Middle: Heliotrope, Geranium

Bottom: White Amber, Sandalwood